Legoland Malaysia
Like probably many of you reading this, growing up I loved Lego, My sister and I could play with it for hours, creating different structures and elaborate story lines for our little men. These days it's my kids and while I would't say they are huge fans (at least not yet), they do enjoy playing with Lego.
We've never been to a Legoland though and I was quite intrigued by the prospect. Would it just be like an amusement park? Would it be like Disneyland? How would Lego actually feature?
The short answer to this is everywhere – there is Lego everywhere. The attractions all have some type of Lego theming and there are plenty of opportunities to spend lots of time building different Lego structures. There is a whole land of Lego structures and people and sprinkled across the park, there are Lego buildings, animals, dragons, people, you name it. They often make sounds as well, and it was fun discovering them all as we walked around.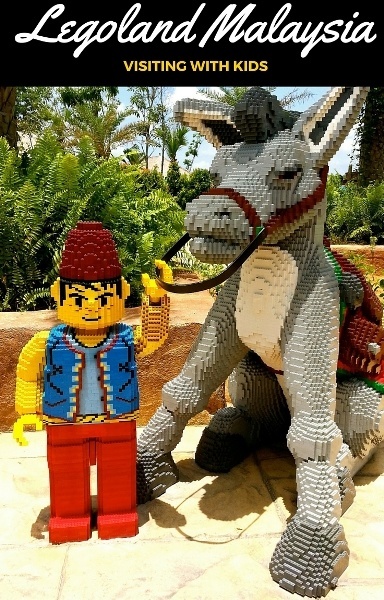 Even if you aren't a Lego fan, you are going to be impressed by the Lego structures in this park.
Ignoring the Lego for a moment though, Legoland is also a well constructed, very fun theme park. There are rides, shows and attractions. Plenty to do for all ages and it's just a lot of good fun.
Still not convinced Legoland Malaysia is for you? Below is our full Legoland Malaysia review!
Legoland Malaysia review
First of all at Legoland Malaysia, there are two separate theme parks – Legoland Water Park and the main Legoland theme park. You can go to either or both depending on what ticket you buy.
It's cheaper to buy a single park, single day ticket but you can also buy a combo ticket which gets you into both parks. We had a two day combo ticket which was perfect for us! More about ticket options below.
Legoland Malaysia theme park review
Legoland is the main theme park and is full of rides, educational activities, Lego and shows. There are basically six different lands as well as a beginning part with shops, a cafe, guest services, etc. There are also lockers and strollers for rent here (you will also find other lockers scattered across the park).
Each land is generally quite compact, has its own theme, look and feel and own style of attractions.
Lego Technic
This area is most suited to older kids and adults – there is a cool roller coaster here (pictured above), a few other rides and also Lego Mindstorms  – with cool activities like programming robots. This is for 8+ year olds so we didn't try it out. S did love Project X though.
Lego Kingdoms
Lego Kingdoms is full of castles, knights and dragons! There are also rides – including two roller coasters – a big one (the Dragon) and one more appropriate for young kids (the Dragon's Apprentice), a shop, restaurant and food stands and a giant play area.
Imagination
Imagination is colourful and filled with interesting attractions – this is a great area to go if its raining too with the 4D cinema and the Build and Test area. This area is also great for toddlers and young kids with a child size city for kids to play in and a train to ride.
The 4D cinema is great and shows a film every 30 minutes. There were four different films shown while we were there. We saw two and both were fun and involved us getting wet and snowed on! Mr 3 absolutely loved it.
The Build and Test area was also a big hit with us. We could build race cars and test them on a racing track. Mr 3 could have spent all day here I think! There are also lego boards which shake to stimulate an earthquake so you can build structures on them and see if they last.
J and I enjoyed the Observation Tower. This is a rotating, indoor platform that goes from ground level to high up in the air. There are great views all over Legoland and Legoland Water Park.
Land of Adventure
Land of Adventure has two different themes – an Egyptian area and a Dino Island area. The centrepiece of the Dino Island area is the huge splash ride you can see above.
In the Egyptian area is a fun ride, Lost Kingdom Adventure, where you can shoot lasers and get a score as you are transported around a haunted house style track. There is also a play area and a good ride for young kids.
Lego City
Lego City was another of our favourite areas with the kids being able to go to "driving school". There are two – one for 3-5 year olds and one for 6-13 year olds. There's also a Rescue Academy where J and the kids took a fire engine to put out a fire, a boating school (which especially excited me as it was the only ride I came across that was ok for pregnant women!), planes and some other rides and attraction.
Lego City is also home to be a big stage where there is currently the live show, Ninjago. This is essentially a Lego puppet show. It was very well done and impressive and we all enjoyed it.
Miniland
Last but definitely not least is Miniland. This is like a mini Asia with amazing Lego replicas of famous landmarks across Malaysia and Asia.
To be honest, I had very little interest in visiting Miniland when I first heard about it. It sounded boring as I am more of a doer than a watcher. However, when I arrived that changed completely. It is amazing. It's just so detailed and intricate and it's incredibly cool that Lego can be used to do so much.
There are amazing replicas of Tiananmen Square, Taj Mahal, Angkor Wat, Singapore and many others. My favourites were actually more low key ones – the soccer field pictured above, the shipping yard and KLIA. I loved seeing all the activity (many things move), the people and just the painstaking detail.
There's some interesting facts about the Miniland as well – like it took over a year and a half to build this Miniland and over 100 people worked on it across the world (imagine this for a job!). The design took over two years!
So don't be as quick as me to write it off. It's great!
Legoland Malaysia Water Park review
Legoland Water Park is lots of fun and a great way to cool down as Legoland Malaysia can be HOT!
At the water park there are many water slides, a great toddler water play area, an older kid massive water playground, a wave pool, a lazy river ride (Build-A-Raft) and some fun things like a table to build your own boats and then race them.
We started at this table and I had lots of fun building boats with the kids and then racing each other. Something that is extra good about this table is that it's at the foot of the water slides so J could go on all of them while we happily played.
The water slides are not super thrilling but J enjoyed them all and said they were fun. S has problems with an ear infection when we visited so didn't get to try them out but we think she would have loved them too.
The next challenge we took on at the water park was Build-A-Raft. This is a normal lazy river ride with a twist – you can float around on ring tubes or you can try to build your own raft out of Lego – there are lots of big pieces of Lego floating around!
We took on the challenge of building a raft – and failed miserably! It's hard! There were some people floating around with some very cool ones though.
Next up for us was the playgrounds. The younger kid one (Duplo Splash Safari) was a bit young for our kids but would be awesome with toddlers. There are also some "Imagination Stations" nearby where you can play with Lego and water.
Our kids did love the big playground though!
Finally, we gave the wave pool a whirl. It's fun! There aren't super big waves and S loved just wearing a life jacket and bopping around in the waves.
Like Legoland, this park seems more aimed at kids than adults, so it's great fun with kids but adrenaline junkies are going to have to take it easy.
Eating at Legoland
There are plenty of food places across both parks and there is no problem finding something. Most of it is fried or suitably junky. If you have a combo ticket, you can leave the park and get something to eat just outside if you want more options.
I was impressed by the price of food in the park. We paid about RM16 for a kids meal and RM28 for an adult one. Water is readily available for RM3. For a premium theme park, I found these prices very reasonable.
What I loved is that we ate in Land of Adventure the first day and a staff member came and got our kids while we were waiting and sat them on a special table and gave them some Lego activities to do. If only every restaurant everywhere in the world did that!
Legoland Malaysia for young kids
As someone with preschoolers (our kids were 3 and 5 when we visited), I know how much I obsess over whether a big theme park like Legoland Malaysia is right for us. In fact, on our last visit to Johor Bahru our kids were 1 and 2 and after lots of analysis, I decided not to go which I think was the right decision then.
First of all, kids under 3 are free, except at the water park where they are a small fee and you get a swimming nappy in return. Many rides have height restrictions. If your child is over 120cm then they are fine – they can go on all rides but one alone. Our 5 year old was over this (she is tall for her age) and went on everything.
Lots of rides have a height restriction 80-110cm. Our three year old was about 105cm, so he missed out on a few things. If he had been less than 100cm, he would have missed out on quite a few more and ended up very unhappy I think. He needed an adult with him to go on just about anything. Where the height restriction was 100cm, it usually said the child had to be 4 as well, but no one questioned us on this (and he is nearly 4 anyway).
If you go with a younger kid, they have a pamphlet of activities that two year olds can do. It's quite long. Most of the lands also have some type of play area as well as there being Lego tables at many of the rides so younger kids can have something to do while their older sibling goes on a ride.
The water park is well suited for young kids – there's an older kids water playground which is unreal (our 3 year old loved it) as well as a younger kids area that would be perfect for toddlers. Toddlers can also play at the wave pool and float around the lazy river with parents.
All up, I would certainly not say avoid this park with younger kids – its lots of fun and they can still do a lot! But when we had two toddlers that were too young and small to do much, I don't think it would have been worth it. At 3 and 5, we found it perfect.
There is a lot of walking at the main theme park and you can hire strollers. We hired a single one for RM40 and put our three year old in it. Our 5 year old walked around fine and our 3 year old normally would be fine too but he has been hard work lately and become a bit of a runner, so this made for a more pleasant day for us! There is a lot of "stroller parking" around the park.
I was 19 weeks pregnant during our visit which cut back my options of things to do dramatically. It was still very much worth going because the kids loved it so much, but I couldn't help but be jealous!
How many days to visit Legoland Malaysia?
We found two days perfect to visit Legoland Malaysia. This gave us one and a half days at the main park and half a day at the water park. With just one day, I would stick to the main park.
We liked having combo tickets – these allowed us to go back and forth between the parks and exit Legoland Malaysia and come back in. A one day ticket for one park, won't allow you to exit and come back in.
When to go
Johor Bahru has tropical weather and the climate does not vary that much year round. It can rain any day, although thankfully downpours are usually quick – there was a storm while we were there but it was over in less than an hour.
It's a good idea to look up Malaysian and Singaporean school holidays and avoid them! We went in mid January which is just after schools go back in this part of the world and it was perfect! Barely anyone was around. We didn't wait for anything and could often stay on rides and have as many turns as we wanted!
We went on both a Friday and a Saturday. The Saturday had more people, but we still didn't wait for anything.
Our tips
Here's some tips for visiting Legoland Malaysia:
Take an umbrella, rain coats or ponchos. It rains often in this part of the world. There are ponchos for sale in the park.
Look at any recommendation signs based on the weather that Legoland displays at the entry to their theme parks – they aren't hard to see. We found these useful.
Prioritise doing outdoor stuff first if rain is forecast. The maps available of Legoland show which attractions are indoor. We basically walked around the park skipping the indoor stuff in the morning and then went back to it when it started raining.
If it does start raining, try to rush to an area with lots of indoor things to do. The Imagination Land is good with the 4D cinema and an opportunity to build racing cars (and race them) and earthquake proof buildings.
If you want more food options and have a combo ticket, can exit the park and there are other eating options near the entry. If you have a one park pass, you can't re-enter so don't do this!!
I did not feel comfortable wearing my bikini at Legoland Water Park and not just because I'm feeling like a whale of a pregnant woman. I only saw one other woman that wasn't wearing at least t shirt style bathers.
Getting to Legoland Malaysia
Legoland Malayia is close to Johor Bahru in Malaysia and is also close to Singapore – so it's also possible to day trip here.
From Johor Bahru to Legoland
Johor Bahru is about 20 minutes drive from Legoland, so the easiest way is by taxi. Any taxi should take you here although they may not be keen to use the metre. There are also local buses.
A better option can be to stay in Puteri Harbour which is much closer and has plenty of shopping and eating options (more about this option below).
From Singapore to Legoland
There are taxis, buses and shuttles. It costs SGD$70 to get a taxi here from Queen Street Bus Terminal. Remember you will need to go through immigration for both Singapore and Malaysia.
Find more details about bus and shuttle options here.
Where to stay for Legoland Malaysia
Although many people do day trip over from Singapore, I recommend staying in the area if you can afford the time and especially if you have young kids – it's a long day!
We really appreciated having two days to visit the park and it was so super easy to enjoy the days fully staying at Hotel Jen Puteri Harbour which was a less than ten minute, free shuttle bus ride away.